Our selection of top e-commerce platforms is derived from objective performance metrics, featured services, user-friendliness and overall value for money. Compare the leading e-commerce website builders to discover the one that aligns with your specific requirements. 
With numerous e-commerce platforms currently available, individuals embarking on online selling may be overwhelmed when selecting the most suitable solution for launching their store. As an E-commerce agency that has conducted an in-depth assessment of the capabilities of all the leading contenders, we frequently encounter the question: 'Which e-commerce platform is the best choice for beginners? Which one should you opt for to establish your online store?'
Following a comprehensive evaluation of factors such as customisable design, built-in features, scalability, and performance across the leading options, we have distilled the top e-commerce platforms that offer exceptional value.
Rating and ranking criteria 
This compilation of leading e-commerce platforms is the result of extensive research. I can confidently recommend these platforms to my audience, having conducted thorough evaluations of each one.
During the curation of this list, we assessed various e-commerce platforms based on several key metrics:
Third-Party Software Integration: These platforms allow seamless integration with third-party software, enabling the incorporation of valuable add-ons that greatly enhance the user experience for both retailers and customers.
Mobile Responsiveness: In an era where users increasingly shop via smartphones and tablets, ensuring that an e-commerce website is mobile-responsive is imperative. Neglecting this aspect could lead potential customers to opt for competitors.
Pricing: We thoroughly examined pricing plans, recognising the significance of costs in the context of online business operations. Only platforms offering optimal value for your investment have made it onto this list.
User-friendliness: We investigated to see which of the e-commerce platforms are easy to use for beginners. We evaluated the working dashboard capabilities and user-friendliness.
Additional factors we considered included SEO capabilities, security measures, and HTTPS/SSL certifications.
So, without further ado, we will now present the leading all-in-one e-commerce solutions that we wholeheartedly endorse, considering their capacity to meet the requirements of most beginner merchants. 
We will provide an overview of how each platform excels in user-friendliness, adaptability, feature offerings, and mobile optimisation, allowing you to ascertain which best aligns with your business objectives.
Eager to learn more? Well, let's dive right in.
E-commerce platforms comparison table
This exhaustive compilation of leading e-commerce platforms for 2023 is entirely uncompromised. If you lack the time to review the entire list, here is a concise summary of our top five recommendations.
| | | | |
| --- | --- | --- | --- |
| Sr. No. | eCommerce Platforms | Best For | Rating |
| 1. | Shopify | Best For All Types of Businesses & Beginners | 4.9/5 |
| 2. | WooCommerce | Best for WordPress sers and content creators. | 4.8/5 |
| 3. | BigCommerce | Best for enterprise-level as well new online stores | 4.7/5 |
| 4. | Squarespace | Best for creating an online store to target one niche | 4.6/5 |
| 5. | Sellfy | Best for creating an online store for beginners | 4.6/5 |
1. Shopify 
Shopify stands as the preeminent e-commerce platform on a global scale, commanding widespread recognition. It boasts a worldwide presence, facilitating online sales for entrepreneurs across the globe. Countless businesses leverage Shopify's streamlined features to engage with their customer base.
Top-rated E-commerce Platform for Beginners – Shopify Shopify clinches the top spot in this category for many reasons. The platform's user-friendliness shines through, thanks to its drag-and-drop page builder, personalised checkout options, and an abundance of instructional resources in the form of videos and guides to assist in setting up your online store. Furthermore, the Shopify ecosystem offers many options to expand your business, with thousands of add-ons, plugins, and integrations accessible through the Shopify marketplace.
Key Features
User-friendliness: Shopify is super user-friendly. All you need is to spend some time with the Shopify dashboard and you can start building your online store. 
70+ Professionally Designed Themes: Crafted by international experts Mobile 
Responsiveness: Ensures optimal browsing on smartphones and tablets 
Comprehensive Blogging Platform: Facilitates catalog creation, article posting, categorization, user engagement, and comment moderation on your Shopify blog Free 256-bit SSL Certification: Each store receives a complimentary SSL certificate for security 
Diverse Payment Gateways: Seamless integration with over 100 external payment gateways worldwide, including Bitcoin, PayPal, iDEAL, and more 
Dropshipping Compatibility: Integration with dropshipping applications like eCommHub simplifies the initiation of a dropshipping venture 
SEO Tools: Enhance your website's search engine ranking through Shopify's optimisation capabilities 
Robust Web Hosting Features: Unlimited bandwidth, Level-1 PCI compliance, sitemap.xml, and more
Additional Noteworthy Shopify Features
Round-the-clock customer support 

Access to Shopify experts

 Domain purchasing options

 Automated taxation

 Multi-lingual support 

Seamless social media integration 

Inventory management tools 

Integration with Google Analytics 3-day free trial 

And much more 
Pricing
Shopify offers a choice of three plans tailored to meet diverse business needs. Detailed pricing information for Shopify can be found here.
Basic Plan: Priced at $39 per month, this plan provides access to the Shopify store for two administrators and permits the assignment of up to four inventory locations. It encompasses all the essential features for launching a new store.
Shopify Plan: For $105 per month, this plan extends access to the Shopify store for five administrators and allows the assignment of up to five inventory locations. It caters excellently to businesses poised for growth.
Advanced Plan: Priced at approximately $399 per month, this plan, though more expensive, proves invaluable for taking your business to the next level. It grants access to the Shopify store for 15 administrators and permits assigning up to eight inventory locations.
2. WooCommerce 
WooCommerce is an open-source plugin that empowers WordPress-based websites to facilitate sales transactions and accept payments. 
It stands out as one of the most effective means to transform your WordPress site into a fully functional e-commerce platform. WooCommerce encompasses all the essential components to initiate and operate an e-commerce website.
Widely embraced by small and medium-sized enterprises (SMEs) and entrepreneurs, WooCommerce garners acclaim for its adaptability and user-friendliness. Within the familiar WordPress environment, users can effortlessly establish their e-commerce presence. 
Moreover, WooCommerce provides access to the WordPress API and an extensive library of extensions. This translates to a wealth of possibilities for enhancing the online shopping experience for your customers. Additionally, WooCommerce lends itself to facilitating dropshipping operations through your store.
Key Features
User-friendliness: Shopify is super user-friendly. All you need is to spend some time with the WordPress dashboard, and you can start building your online store with the available free themes.  
Efficient Setup: Configuring WooCommerce within WordPress is a matter of minutes, enabling the quick addition of essential pages and site elements. 
Secure and Versatile Payment Options: WooCommerce offers robust support for major payment methods, including PayPal, debit/credit cards, cash on delivery (COD), bank transfers, Amazon/Apple Pay, and more. 
iOS and Android Applications: WooCommerce extends its reach with dedicated applications for both iOS and Android platforms, allowing you to manage your business while on the move. 
Third-Party Extensions: The WooCommerce marketplace boasts a vast array of paid and free extensions, such as Yoast, Amazon FBA, Stripe, among others, to augment your store's functionality. 
WooCommerce Documentation: In-depth documentation and public forums provided by WooCommerce serve as valuable resources to address any inquiries you may encounter. 
Jetpack Integration: By integrating Jetpack, WooCommerce enhances website security through validated customer logins and safeguards against phishing attempts and cyberattacks, all while optimising performance. Pricing
Pricing
WooCommerce is a fully free-to-utilize tool. However, premium WP themes with advanced functionalities are available for a fee. 
3. BigCommerce
BigCommerce stands out as one of the world's most adaptable e-commerce platforms, offering many versatile features that can be tailored to meet the unique needs of your business. 
This SaaS solution provides the flexibility to adjust and expand your enterprise, and it offers seamless integration with prominent platforms such as Instagram, eBay, Facebook, Target, Google, and Wish.
BigCommerce BigCommerce equips you with an array of themes and tools designed to assist you in crafting the perfect website for your enterprise. 
This versatile system incorporates robust security features to safeguard your operations and an array of analytics tools to help you gain insights into your performance. For developers who favour headless architecture, BigCommerce offers a range of possibilities.
Key Features
Search Engine Optimization (SEO): Elevate your search engine rankings through best SEO practices, including HTTPS, search-friendly themes, metadata, Sitemap.xml, and more. 
Blogging: Attract traffic to your website and enhance your Google rankings by creating content-rich blog posts. 
Dedicated SSL Support: This crucial feature enables users to remain on your site throughout their checkout process, instilling a sense of enhanced security and trust. 
User-friendliness: BigCommerce is super user-friendly. All you need is to spend some time with the BigCommerce dashboard, and you can start building your online store with the available free themes.  
Email Marketing Integration: Seamlessly connect your online store with renowned email marketing platforms like Listrack, Mailchimp, and others using BigCommerce. 
Responsive Templates: Craft a website that maintains its visual appeal on any device, ensuring an optimal user experience. 
E-commerce Expertise: Access the expertise of website-building professionals worldwide who have played integral roles in developing online stores for some of the world's leading brands.
Pricing
BigCommerce offers users a choice of four pricing plans. Detailed pricing information and available BigCommerce coupons can be found here.
Standard Plan: Priced at $29.95 per month, this plan is well-suited for beginners.
Plus Plan (Most Popular): Priced at $79.95, this plan is the most widely chosen among BigCommerce users, making it ideal for SMEs.
Pro Plan: Priced at $299.95 per month, this plan is designed for established businesses seeking to scale their operations.
Enterprise Plan: If none of the above plans align with your requirements, you can secure a customised plan tailored to your brand's specific needs. Simply contact BigCommerce's customer support to receive a personalised quotation."
4. Square Space
Squarespace holds a reputable position in the e-commerce industry, recognised as one of the most popular tools for crafting visually captivating websites.
Squarespace Squarespace empowers users to bring their dream websites to life within minutes, thanks to its user-friendly drag-and-drop functionality.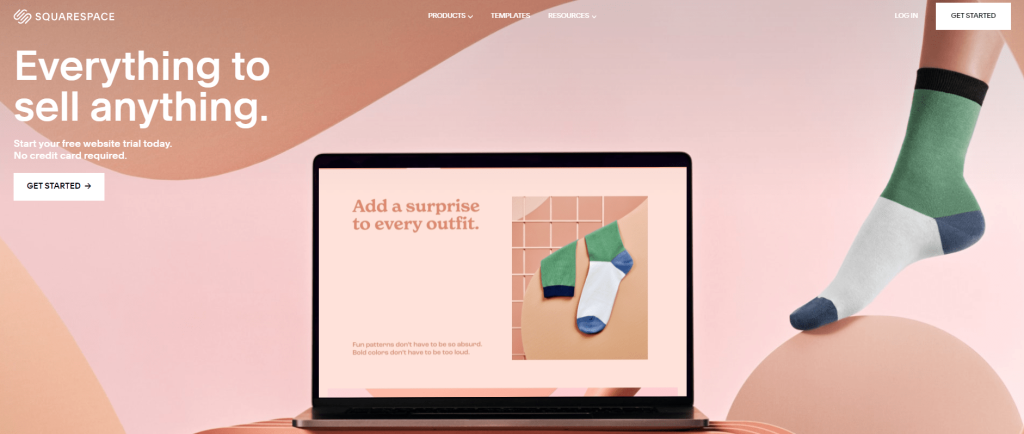 This platform eliminates the need to acquire coding skills or seek a website hosting service, making website creation more accessible. Squarespace boasts an impressive array of themes created by world-class designers and a robust set of features, including integrated SEO tools, analytics capabilities, and traffic monitoring tools.
Key Features
Abundant Selection of Themes: Squarespace offers an extensive range of templates designed by renowned professionals, allowing your online presence to stand out. 
Portfolio Designs: Showcase your work effectively with Squarespace's professional portfolio layouts. 
Blogging Tools: Utilize Squarespace's powerful blogging tools to share stories, news, and product announcements. 
User-friendliness: Square Space is very popular among new users and beginners. You can be confident that you can build your online store in a matter of few days with this platform. 
SEO Tools: Every Squarespace website has built-in SEO features and comprehensive guides to enhance organic traffic. 
Analytical Tools: Leverage Squarespace's analytical tools to track the source of website traffic and assess user engagement with your content. 
Mobile App: Manage your Squarespace websites conveniently through their robust mobile application, compatible with iOS and Android. 
Video Studio App: Create and share compelling videos using this app to drive increased sales and traffic.
Pricing
Squarespace offers users four pricing plans, each of which can be further discounted with our Squarespace promo code. Here's a brief overview of the pricing plans:
Personal Plan: Priced at $14 per month, this plan accommodates two website admins and offers limited access to the video studio app.
Business Plan (Most Popular): Available for $23 per month, this plan has no restrictions on the number of website admins and grants full access to the video studio app and other features.
Basic Commerce Plan: Priced at $27 per month, this plan includes all the Business plan features and additional functionalities. It also allows an unlimited number of website admins and provides full access to the video studio app.
Advanced Commerce Plan: Squarespace's premium offering, this plan comes in at $49 per month and unlocks all available features."
5. Sellfy 
Sellfy was initially introduced as an eCommerce platform exclusively designed to sell digital products. However, as time has progressed, Sellfy has undergone several transformations and introduced numerous features. 
Today, users can sell physical products, digital goods, or a combination of both through their online stores. This platform has proven highly beneficial for small business owners seeking to establish an online presence and market their products. It has also gained popularity among content creators, utilising it as an e-commerce solution for selling their merchandise.
Sellfy Sellfy empowers photographers, digital content creators, and music producers to effortlessly set up their own eCommerce stores and market digital downloads. 
Users can sell various digital items, including eBooks, videos, audio files, photographs, and any other desired digital content. To kickstart their online selling journey, individuals must create an online store, customise its design, link it to a personalised domain, add products, set up payment methods, and commence their online sales operations.
Key Features
Sell subscriptions and products 

Establish a fully functional storefront in just five minutes

Access built-in marketing tools Incorporate the "Buy Now" button for seamless purchasing 

Utilize payment gateways such as Stripe and PayPal 

Optimize the website for mobile device compatibility 

Offer on-demand video sales 

Tailor the website and product offerings to suit specific preferences 

Automatically adjust the store's language based on the customer's location 
Pricing
Sellfy offers three pricing plans, each of which comes with a 14-day free trial period.
Starter Plan: Priced at $29 per month, $264 per year, or $456 for a two-year subscription, this plan enables users to earn up to $10,000 annually.
Business Plan: Available at a cost of $79 per month, $708 per year, or $1,176 for a two-year subscription, this plan accommodates businesses with the potential to generate up to $50,000 in annual revenue.
Premium Plan: Priced at $159 per month, $1,428 per year, or $2,376 for a two-year subscription, this plan caters to high-growth businesses and allows for the possibility of earning up to $200,000 annually.
How to choose the best e-commerce platform 
Choosing the best e-commerce platform for your online business is a critical decision that can significantly impact your success. Here are steps and factors to consider when making this important choice:
Define Your Business Needs
Start by understanding your business requirements. What kind of products or services will you sell? Do you need specific features like inventory management, subscription billing, or international selling capabilities? Knowing your needs is the foundation of your decision.
Budget Considerations
Determine your budget for the e-commerce platform. Costs can vary significantly, including upfront fees, monthly subscriptions, transaction fees, and add-on costs for extra features.
Scalability
Consider your growth potential. Choose a platform that can scale with your business as it expands. Ensure it can handle increased traffic, products, and orders without causing performance issues.
Ease of Use
A user-friendly interface is essential, especially if you're not tech-savvy. Look for platforms with intuitive dashboards and easy-to-use tools for adding products, managing orders, and customizing your site.
Customisation and Design
Your website's design and customization options are critical for branding and user experience. Check if the platform allows you to customize templates, fonts, colours, and layouts to match your brand.
Payment Processing
Ensure the platform integrates with popular payment gateways like PayPal, Stripe, or Square. Also, check if it supports various payment methods, including credit cards, digital wallets, and international options.
Security Features
Security is crucial to protect your customers' sensitive information. Look for platforms that offer SSL certificates, PCI compliance, and robust security features.
SEO and Marketing Tools
Effective marketing is essential for driving traffic and sales. The platform should provide SEO tools, integration with email marketing services, and support for online advertising. For beginners, this article on SEO for eCommerce websites could be very beneficial. 
Mobile Responsiveness
With a growing number of users shopping on mobile devices, make sure the platform offers responsive design options or mobile apps to ensure a seamless mobile shopping experience.
Support and Community
Consider the level of customer support provided by the platform. Look for platforms with active user communities, forums, and helpful documentation or tutorials.
Third-party Integrations
Check if the platform allows integration with third-party applications and services such as inventory management software, accounting tools, and analytics platforms.
Performance and Speed
Fast-loading pages and reliable performance are critical for user satisfaction and SEO rankings. Test the platform's speed and performance before making a decision.
Legal and Compliance Considerations
Ensure that the platform complies with legal requirements for your business, such as GDPR for data protection or tax regulations for e-commerce.
Reviews and Recommendations
Research customer reviews and seek recommendations from other e-commerce business owners to get insights into their experiences with different platforms.
Trial Period
Whenever possible, take advantage of free trials or demo versions to get a hands-on experience with the platform before committing.
Future-proofing
Consider the longevity of the platform. Will it continue to receive updates and support? You don't want to invest in a platform that becomes outdated quickly.
Exit Strategy
Plan for the possibility of changing platforms in the future. Ensure you can migrate your data and customer information seamlessly if needed.
Ultimately, the best e-commerce platform for your business will align with your specific needs, goals, and resources. Take the time to research and compare options, and don't rush the decision-making process. It's an investment that can significantly impact your online business's success.
Why Are Online Stores Essential for Brands and Businesses? 
The e-commerce sector is experiencing rapid growth, with global e-commerce sales reaching $4.9 trillion USD in 2021. Consumers are increasingly recognizing the advantages of online shopping, with some even making purchases directly from their mobile devices.
In the past, establishing an online store required significant effort. However, modern technology has simplified the process to the point where anyone with basic tech knowledge can create an online store in minutes. In the past, hiring a programmer was necessary to build a website, but now it's easily achievable.
Given the presence of platforms like Amazon, eBay, Facebook, and more, one might wonder why bother starting an online store when you can simply list products on these marketplaces. Here's why:
Brand Building: Having your own e-commerce marketplace sets you apart from the competition, giving you full control over the store's appearance and customer interactions. Your presentation of products impacts the customer's experience and helps build trust. With your store, you can establish a unique brand image, unlike marketplaces where every product shares a similar interface.
Customer Data Collection: When a customer visits your online store, you can request their email address. This data is invaluable for email marketing campaigns, allowing you to re-engage customers through custom advertisements on social media and Google.
Repeat Purchases: Statistics show that 50 per cent of Shopify stores generate repeat purchases. You can offer special treatment to visitors on your website, from exclusive discounts to personalized customer service. This not only builds trust but also boosts repeat purchases. This is why Shopify stores have high repeat purchase rates.
Selecting the Right E-commerce Platform for Beginners 
Each e-commerce platform offers different features that may or may not suit your business. Some platforms may provide excessive options you don't need, while others might offer more advanced capabilities to cater to specific customer needs. Making the right choice upfront can save you the hassle of switching between platforms.
We recommend considering Shopify, as it strikes a perfect balance by offering essential features suitable for various e-commerce needs, whether you're a solopreneur, SME, or a large-scale business.
Conclusion: Best E-commerce Platforms (2023) This post aims to provide you with a better understanding of some of the best e-commerce platforms and tools available in 2023. We also review products and offer the best deals in the e-commerce world. 
FAQs
Which is the best eCommerce platform? 
The best e-commerce platform depends on your business's specific needs. Factors to consider include features, budget, and multichannel selling capabilities. Our recommended e-commerce platforms are Shopify, Wix, Squarespace, and BigCommerce.
Which eCommerce platform is best for dropshipping?
 For dropshipping businesses, Shopify is often considered the best e-commerce platform, thanks to its excellent dropshipping app called Oberlo.
Can I start a B2B eCommerce store with these eCommerce platforms? 
Yes, you can launch a B2B e-commerce store using any of these platforms to sell products or services to other businesses. Shopify is a strong choice for starting a B2B e-commerce store.
Which is the most budget-friendly eCommerce platform? 
WooCommerce is the most cost-effective e-commerce platform as it is entirely free. You can create an online store by setting up a WordPress website and installing the WooCommerce plugin.
Which eCommerce platform offers the best SEO features? 
BigCommerce is known for offering robust SEO features to help your online store rank effectively on search engines.